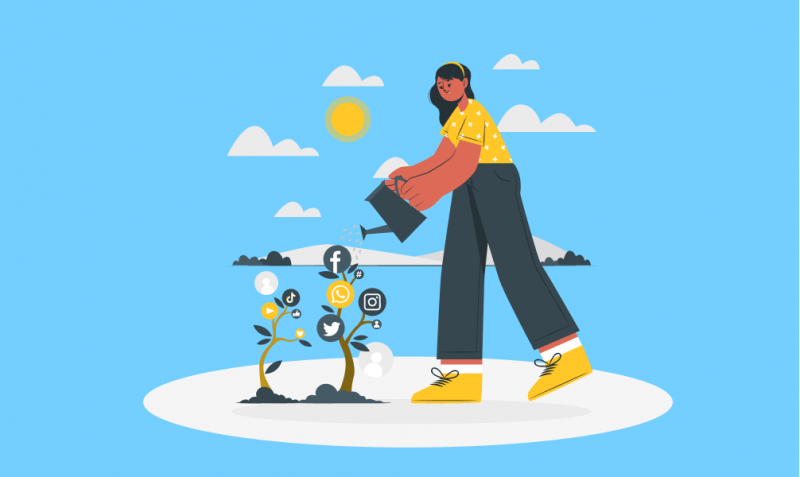 What is the Role of TikTok in the B2B Industry?
The use of TikTok in the B2B industry is an important step for B2B companies to develop content marketing tactics that are freer, simpler and more compatible with the emotions of the target audience. Although it seems to be behind other social media platforms, the common opinion of the experts; its potential is much greater.
Moreover, recent research by LinkedIn's B2B Institute has also proven that marketing strategies that appeal to an audience's emotions are far more effective than those that take a rational approach.
For B2B companies, rational marketing asks someone to take action and tells them exactly why they should do it, but the key is to create brand awareness using emotional marketing strategies.
What is TikTok?
TikTok is a social media platform that allows its users to prepare and share the videos they take with fun effects. The user base of TikTok, which entered our lives in 2016, generally consists of young people. For this reason, it has become even more important for B2B companies whose target audience is the young segment.
TikTok works on phones with iOS and Android operating systems and allows the videos to be shared on other social media platforms.
What are the Advantages of TikTok to B2B Companies?
Every social media platform has become the main channel of advertising activities with an increasing momentum especially in recent years. TikTok has also taken its share from this situation and has become suitable for conducting quality content and advertising activities. As we mentioned before, the platform, which generally has a young audience, has many advantages for B2B companies as well. To briefly mention these advantages;
1- Since it is a platform used by large audiences, B2B companies have a high success rate in brand recognition efforts,
2- It is effective in increasing the sales figures of B2B companies with the right planning,
3- It provides the opportunity to advertise with more suitable advertising budgets compared to other platforms. In this way, you can accelerate brand recognition efforts,
4- Thanks to the influencer marketing concept, you can reach your target audience,
5- Opportunities to communicate and interact with consumers are wide,
6- It is simple to attract consumer attention, provided that it keeps up with the ever-changing trends.
What Do B2B Companies Have to Do on TikTok?
Interact
The main purpose of social media platforms is to bring users together. B2B companies should also unite their audiences for this purpose and try every way to interact with them. Fortunately, TikTok sorts the comments under your posts in a special way, allowing you to interact with each commenter.
Engagement is the most important step for B2B companies to have a wider audience. For this reason, it is important that TikTok usage and interaction are high in the B2B sector.
Try to be Fun
On social media platforms, the content that attracts the most attention of the consumer is of course entertaining content. In this information age where traditional methods are rapidly retired; B2B companies also need to reveal their fun side and move away from the traditional.
Educate While Entertaining
Now people watch a content not only because they have watched it, but also because they think they can learn something from that content. Having informative and educational videos on your content is a great way to indirectly sell to potential customers. Thanks to this method, you can keep the attention of the consumer on your brand and social media accounts.
We tried to briefly explain the role of TikTok in the B2B industry and what B2B companies should do when using TikTok. As an extension of advertising and PR efforts, a shopping opportunity with a high user experience should also be offered. As Turkey's first and only B2B e-commerce software, Trizbi includes many services that maximize experience in terms of both management and usage.